Gas test boss breaks through 'ceiling' after 18-year battle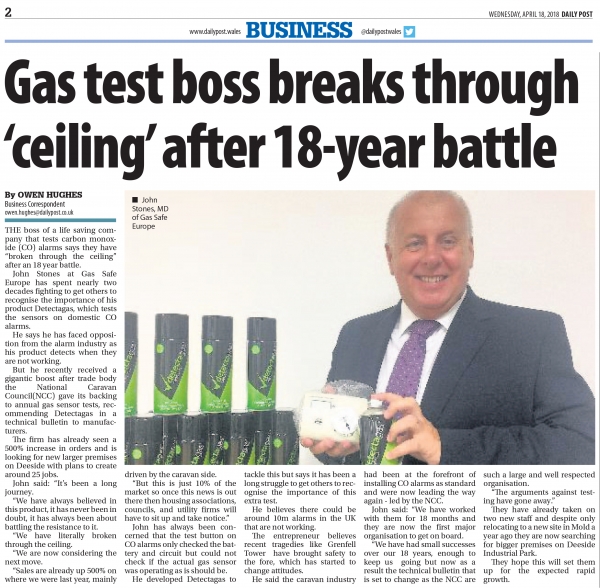 The boss of a life saving company that tests carbon monoxide (CO) alarms says they have "broken through the ceiling" after an 18 year battle.
John Stones at Gas Safe Europe has spent nearly two decades fighting to get others to recognise the importance of his product Detectagas, which tests the sensors on domestic CO alarms.
He says he has faced opposition from the alarm industry as his product detects when they are not working.
But he recently received a gigantic boost after trade body the National Caravan Council(NCC) gave its backing to annual gas sensor tests, recommending Detectagas in a technical bulletin to manufacturers.
The firm has already seen a 500% increase in orders and is looking for new larger premises on Deeside with plans to create around 25 jobs.
John said: "It's been a long journey.
"We have always believed in this product, it has never been in doubt, it has always been about battling the resistance to it.
"We have literally broken through the ceiling.
"We are now considering the next move.
"Sales are already up 500% on where we were last year, mainly driven by the caravan side.
"But this is just 10% of the market so once this news is out there then housing associations, councils, and utility firms will have to sit up and take notice."
John has always been concerned that the test button on CO alarms only checked the battery and circuit but could not check if the actual gas sensor was operating as is should be.
He developed Detectagas to tackle this but says it has been a long struggle to get others to recognise the importance of this extra test.
He believes there could be around 10m alarms in the UK that are not working.
The entrepreneur believes recent tragedies like Grenfell Tower have brought safety to the fore, which has started to change attitudes.
He said the caravan industry had been at the forefront of installing CO alarms as standard and were now leading the way again – led by the NCC.
John said: "We have worked with them for 18 months and they are now the first major organisation to get on board.
"We have had small successes over our 18 years, enough to keep us going but now as a result the technical bulletin that is set to change as the NCC are such a large and well respected organisation.
"The arguments against testing have gone away."
They have already taken on two new staff and despite only relocating to a new site in Mold a year ago they are now searching for bigger premises on Deeside Industrial Park.
They hope this will set them up for the expected rapid growth