Housing Excellence Awards 2016 – Supplier of the Year Award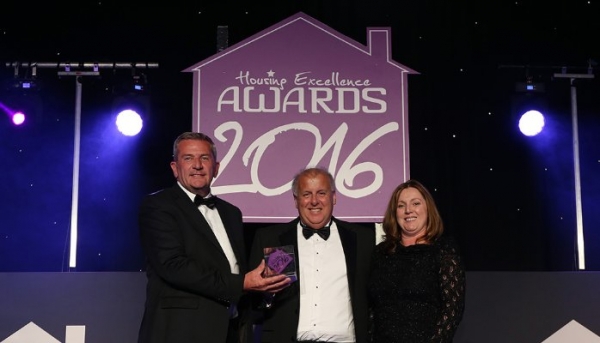 Great we won!! Housing Excellence Awards 2016 – Supplier of the Year Award
Gas Safe Europe Ltd were awarded WINNERS of the Housing Excellence Awards 2016 on Wednesday evening 11th May.
The 2016 winners were decided by an independent panel of industry experts and announced at the annual gala dinner on May 11th, when housing's elite converged on The Palace Hotel and enjoyed an evening of awards, networking and entertainment.
The Winning Award which was sponsored by 3B Training and presented by Mr Ian Rumsam who sat on the Judging Panel; with over 37 years experience, former group head of repairs and maintenance for Together Housing Group and Vice Chair of the Direct Works Forum said "Every company needs a GAS SAFE EUROPE".
John Stones – Managing Director of Gas Safe Europe said "It's wonderful news that we have won this prestigious award and that our efforts over the past 20 years and our standing in the Industry is once again acknowledged. Our life saving products are being identified and that the Housing Sector are adopting them to provide added protection to their tenants.
Bev Stones – Commercial Director of Gas Safe Europe commented " We had great competition in our category which included Hilti (Great Britain) Ltd, Garic, Bromak Recruitment, Grafton Supply Chain Solutions and Jaga Heating Products- all well established and well known business and, I am so glad that Gas Safe Europe Ltd is now also mentioned in the same arena."